What SEOZoom is and what it is for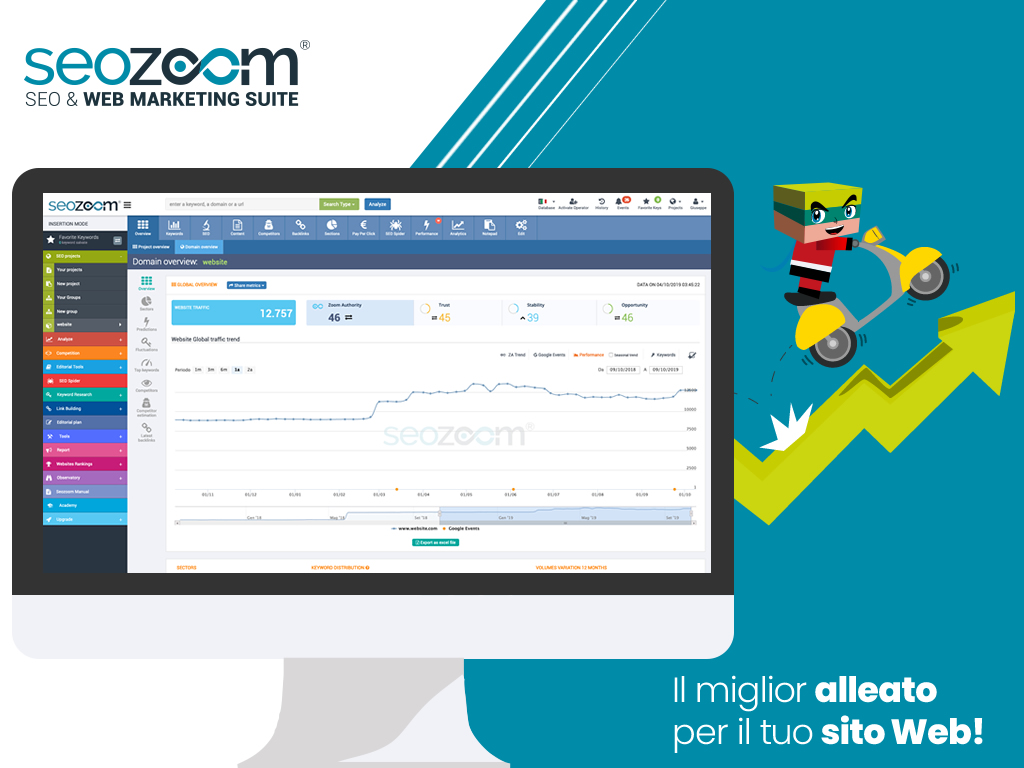 Today we are going to talk about us. Throughout this article we will try to give you all a simple answer to a series of questions about our SEO suite, such as "what is SEOZoom?", "what is it useful for?" and "who can benefit from it?". Let's start!
What is SEOZoom?
SEOZoom is the first and most comprehensive Italian tool that allows you to manage all aspects of SEO activities.
More precisely, SEOZoom is a business intelligence tool that gives access to statistics, data, charts that are fundamental in decision marketing and strategic activities for monitoring competitors, with easy and intuitive interfaces that allow you to have under control most of the useful information to develop and improve an online project.
How can it help your site
Thanks to a very simple interface and intuitive commands, SEOZoom offers you a clear and quick overview on the trend of all of your websites, with the opportunity of promptly know what is actually working in your SEO strategy and which aspects you need to fix, instead, in order to reach your full potential.
The over 40 tools of the platform are suitable fro any kind of job and any typology of user: you will be able to analyze, monitor, compare and boost any kind of website, from the blog to the eCommerce, from the news to the entertainement site and so on.
Even if you have a limited experience on the field or lack of familiarity with the tools, using SEOZoom you will be able to quickly learn to work in a more strategical way, to optimize your site's performance and analyze all of the competitors on the market, so to make more effective and profitable your activities on the Web.
What is SEOZoom useful for
Thanks to this support, you will be able to monitor millions of keywords on Google, to study every step of your competitors, define the best strategies to optimize the site's contents and obtain technical indications so to detect and fix the possible issues stalling the performance of your online activity.
Moreover, with SEOZoom you have at your disposal a system of real-time direct support very easy to reach through several channels, an online community to chat and discuss the tools, free instructional videos, an online manual, inspirations, news and trend about everything Web, SEO and Search Marketing.
SEOZoom's main features
SEOZoom guarantees a professional SEO management for every site and project, with ever-evolving tools thanks to constant updates.
Among the SEOZoom's features most appreciated by users, and the true strength of the suite, are the SEO Spider, the Time Machine, the Keyword Infinity tool, but also a section dedicated to the content of individual pages, the SEO Checklist complete with the main tasks and steps that help manage the SEO workflow to have an optimized site, and the Zoom Authority, an original metric that has emerged as one of the most widely used indicators on the Web to assess the quality of a website.
With the latest updates, most SEO analyses on all keywords, queries, and SERPs are done in real time to always offer clearer, faster, more accurate data, and users' search intentions are tracked maniacally in all sections.
In particular, SEOZoom currently boasts the world's first and only engine capable of performing comprehensive SEO analysis in real time, which not only trivially analyzes a web page's tags, but also examines all competitor sites' web pages in real time, identifies the users' Search Intent, assesses the Intent Match scores for the study page and those of competitors, and provides a number of practical suggestions for optimizing the work.
SEOZoom: a key features guide
Among the most used and appreciated features we can find:
Keywords analysis, to follow your site's keywords trend on Google, their distribution and performance over time. SEOZoom offers you several tools to make your job easier and valid, allowing you to immediately know a series of factors like the average monthly search volume, the level of competition on the field, the number of results placed on the search engine for that keyword and its seasonality.
Monitoring of the rankings with the rank tracker, so to know on any given moment how are your keywords ranking on Google.
Contents overview for each project, a.k.a an analytical study on the content of each web page: you will be able to check the performance, analyze possible content issues and receive indications to improve the ranking.
Tools of keyword research, so to effectively choose the most strategic keywords for your sector and activity.
Editorial Plan, that helps you manage the editorial work in an organized and strategical way, in order to write optimized articles for Google and enhance the contents of every page of the site.
A real-time editorial assistant, to write contents fully matching Google's requests and potentially winning on the search engine.
Time Machine, a special time capsule that allows you to assess the changes of the pages among Google results, to compare the performance of pages and keywords and to analyze the impact of new competitors on the market.
SEO Spider, to figure out the SEO health status of your site: an automated analysis highlighting the errors inside your site's pages and offering practical indications to correct them, so to potentially improve their ranking on Google.
Competitors' analysis with three different modalities (domain vs domain, url vs url and keywords list) to analyze the strongest keywords of your competitors, the pages with better results and then compare the traffic volumes with your own website.
SERP Analysis. SERPs are the starting point for all the analysis that an SEO Tool has to perform, but SEOZoom 2.0 goes beyond that and shows every signal that appears on the page: by analyzing a single keyword, in fact, you can discover so much information, starting with the amount and type of Google Boxes found in the SERP, which can take away space from the organic results or even respond directly to the user's request, and ending with Pixel-based evaluations in which the organic results are drawn by Google, to check if indeed the organic results have visibility or are overpowered by Google features.
Who can benefit from SEOZoom
If you own a website, of any kind, you need SEOZoom.
It is a strategical ally to make more profitable and high-performing your online activity, from the simplest up to the most complex one.
Big companies can use the tools to optimize the performance of the corporate site or eCommerce, spy the strategies of their competitors, find out the best keywords of the competition and discover new business opportunities.
Web Agency and SEO professionals will have at their disposal everything they need to monitor the ranking of their clients' sites, so to evaluate websites, verify the progresses reached through their activity and build up custom reports with the data provided by the suite.
Who is taking care of a personal blog or small editorial project can take advantage of the tools to find effective keywords, enhance their contents and profitably manage the editorial plan.
Freelances and beginner operators will have constant support to perform their activity in the most strategical way, increasing the site's visibility and learning how to professionally use SEO tools.
SEOZoom subscription: plans and prices
The types of SEOZoom subscription plans reflect this versatility and ability to adapt to different customer needs.
Currently, there are four SEOZoom plans, each tailored to a category of customer and job:
It is the ideal plan for those who are taking their first steps in the world of SEO and have not yet perfectly developed their technical skills: the suite is proposed with limited features and tools but suitable to achieve the goals of strengthening the site through the study of SERPs and proposed metrics.
This subscription is designed for freelancers with small client portfolios or small companies with a still young SEO department, who need a complete suite with all the features and tools for a strategic and professional management of online work: the 10 available projects allow you to effectively control your site, but also to spy on competitors to improve the returns of your business. The Professional plan may be the right choice for those who have not yet used SEOZoom, but want to start working more strategically and professionally.
This is the plan suitable for the needs of Web Agencies with several clients, SEO professionals or companies with an in-house SEO division, because it offers all the features of SEOZoom with a number of multiple accesses adapted to the work needs. In particular, there are the indispensable tools for higher level activities, which allow you to control, manage, plan, optimize and improve the organic traffic of as many as 60 different projects.
This is SEOZoom's top plan, which provides all the tools and functions at their maximum quantity: dedicated to large enterprises and communication companies, it allows you to manage a practically infinite portfolio of clients and closely follow each project, while ensuring an adequate number of multiple and simultaneous accesses on the platform.