Complete guide to Google Analytics for traffic analysis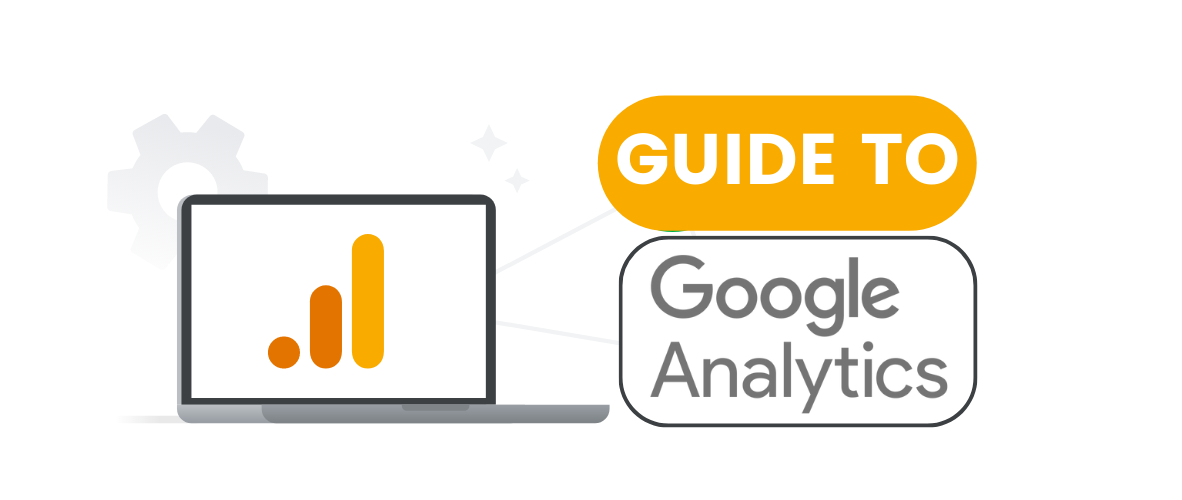 It is the most popular among the traffic analysis tools, with a market share in the segment of 86.0 percent, which equates to a presence on 56.4 percent of all websites. Since 2005, Google Analytics has been virtually everyone's go-to Google tool for helping website and application owners monitor and analyze the behavior of users interacting with their online content, to measure performance, better understand audiences, identify problems and opportunities, and optimize marketing and content strategies. So let's take an overview of this tool, examining what features Google Analytics provides, the type of analysis it performs, and its relevance in the online landscape.
What is Google Analytics
Google Analytics is a free, cloud-based web traffic analysis tool developed by Google that enables website owners, digital marketers, and analysts to monitor, measure, and analyze the performance of their websites and online marketing campaigns.
More specifically, this tool provides a wide range of metrics, reports, and features that help understand user behavior, traffic trends, acquisition sources, content interactions, target conversion, and many other aspects important for improving website and marketing strategies, and over the years it has taken a central role in managing and optimizing the online presence of businesses, e-commerce, brands, and professionals.
Currently, Google offers a free version of Analytics, which offers a wide range of features and is an appropriate solution for most small and medium-sized businesses despite a number of limitations and constraints, while the paid version, which is called Google Analytics 360, is usually recommended for large companies or those with advanced needs and a high amount of traffic, as it provides additional features, higher "hit" limits, and dedicated support.
Key features
Powerful and versatile, Analytics allows users to collect, analyze and interpret data on website performance and user behavior, providing valuable insights to improve SEO, digital marketing and user experience strategies.
Indeed, within this platform we find a wide range of monitoring, survey and reporting features to track different aspects of user behavior on a website or app. More specifically, Analytics performs various types of analysis to understand trends, behavioral patterns and performance, and among the most useful and interesting ones we can include:
Traffic. Information about the origin of traffic to the site, through data on referral sources, organic and paid search, social media, and marketing campaigns. In this way we can understand, for example, which channels are most effective in bringing visitors to the site.
Audience. Analysis of demographic, geographic, and behavioral characteristics of the audience, offering data such as age, gender, language, geographic location, new and old visitors, and audience interests. In this way we can divide users into specific segments according to their characteristics and preferences, facilitating the optimization of targeted marketing and content strategies.
Behavior. Analysis of user behavior on the website or app, providing metrics on content visited, session duration, bounce rate, page speed, and preferred navigation paths. Studying these elements, and in particular page speed metrics and other performance indicators, provides us with a key to understanding and optimizing website performance and improving the user experience.
Conversions. Allows us to set and monitor conversion goals (specific actions taken by users, such as purchasing a product or signing up for a newsletter) and measure conversion performance. Google Analytics monitors and analyzes actions taken by users on the site that lead to a conversion, helping us identify which content and navigation flows are most likely to generate leads or sales.
E-commerce. Information and analytics specific to e-commerce, such as number of transactions, revenue, purchase frequency, average order value, and top-selling items.
Attribution and campaigns. Helps identify and evaluate the effectiveness of different marketing campaigns, including online ads, email marketing and social media campaigns, providing data on click-through rates, conversion and associated ROI.
In addition, this tool offers advanced customization and configuration options, such as the creation of custom reports, advanced segments, filters, alerts and dashboards, to meet the specific needs of each type of user, and most importantly, it easily integrates with other Google platforms such as Google Ads, Google Search Console and Google Tag Manager (not to mention Google Search Insights, which is a simplified merger of GSC and Analytics), enabling a holistic view of marketing performance and better alignment of strategies.
What Analytics is intended for
In short, with its wide range of features and detailed reports, and very accurate data, Analytics enables those who use it to perform strategic activities for SEO as well, such as:
Visits tracking. Google Analytics allows users to track site visits, page views, session duration, bounce rate, and other key indicators of site performance.
Analysis of traffic sources. Provides detailed information on traffic sources, broken down into different categories such as organic traffic, paid traffic, direct traffic, traffic and referrals, and traffic from social media.
User segmentation. Allows users to be segmented based on various criteria such as demographics, geography, behavior and technology used, providing an in-depth analysis of the target audience.
Measuring conversions and goals. Google Analytics allows users to configure and track specific goals, such as completing a purchase, subscribing to a newsletter, or viewing a particular page, to evaluate the effectiveness of the site in achieving business goals.
Content and Interaction Analysis. Provides information on the performance of individual site pages, user navigation flow, and interactions with specific elements such as videos, buttons, or links.
Already from this short and quick list it is clear what Analytics is used for and why in the digital landscape its use is considered relevant and crucial for improving a site's online presence, leveraging customer insights and maximizing the success of marketing campaigns. In fact, this platform allows companies, ecommerce, brands, and professionals to rather easily obtain detailed, personalized information about visitors and their behavior and have data to drive strategic decisions and user experience optimization.
Specifically, the detailed information offered by Google Analytics allows us to make data-driven decisions, reducing the risk of following ineffective or unsuitable strategies, and can, for example, help us identify which marketing channels generate the most significant traffic and conversions, so that we can focus our activities on the potentially most profitable strategies, while at the same time refining, adjusting and improving campaigns to maximize their impact and ROI. This data is historicized, and thus we can monitor certain trends over time, such as growth in organic traffic, changes in traffic sources, or change in audience preferences, to stay abreast of the continuous evolution of the audience and market by adjusting our content and marketing strategies whenever necessary.
In addition, examining and understanding audience preferences and behavior can serve us to personalize the experience and content to better meet visitors' needs and interests, increasing their engagement, retention, and likelihood of conversion. This is also complemented by identifying potential problems with the website experience (e.g., pages with a high bounce rate or excessive loading time), which could penalize the user and indicate poor navigation or content enjoyment.
What data Analytics uses and how it retrieves it
It may be appropriate at this point to open a digression to try to explain how Analytics tracking takes place and thus how the data are extracted and provided.
To summarize, Google Analytics tracking relies on a combination of "page tags" (GATC, Google Analytics Tracking Code), JavaScript, and cookies to collect and record data on users' interactions with a website, and it occurs through a series of steps:
Inserting the tracking code.When we configure Google Analytics for a website, we receive a tracking code (snippet of JavaScript) to insert on each page of that website. This code acts as a "bridge" between the website and Google Analytics.
Data collection.Each time a user visits a page on the website with the tracking code included, the JavaScript snippet runs in the user's browser and collects various information about the visit, such as the URL, page title, screen resolution, geographic location, and device used.
User cookies.The tracking code uses cookies to store information about the user, such as the client ID, which allows Google Analytics to identify unique users and track their interactions over time during different sessions.
Sending data to Google Analytics.After collecting visit information, the tracking code sends the data to Google Analytics via a "hit," which is an HTTP request generated by the user's browser. "Hits" can include different types of interactions such as page views, events, e-commerce transactions, and social interactions.
Data processing and visualization.Once Google Analytics receives the data, it processes and organizes it into various reports and tables showing relevant metrics and dimensions. Users can access these reports in the Google Analytics dashboard to analyze and monitor site performance and user behavior.
Google Analytics data is effective and reliable for several reasons:
Established tracking technology:The JavaScript and cookie-based tracking system of Google Analytics is widely used, tested and optimized, ensuring high accuracy in collecting and counting user interactions.
Recognition of unique users:Through the use of cookies and client ID, Google Analytics can distinguish unique users and track their interactions over time across different sessions, providing accurate evaluation of site visits.
Adaptation to different technologies and platforms: Google Analytics supports a wide range of devices and platforms, providing broad coverage in data collection and analysis.
Real-time and historical data processing: Google Analytics processes and displays data on user interactions in real time and also provides historical analysis, enabling users to monitor site performance and identify trends and patterns over time.
In addition, the reliability of Google Analytics data also stems from other factors such as its integration with other Google platforms (particularly Google Ads and Google Search Console), which provides a holistic view of marketing performance and allows for greater consistency of data across platforms; its wide reach and popularity, with the largest user base in the world; and continuous updates and development by Google, which is constantly introducing new features, correcting errors, and fixing problems that also affect the accuracy and reliability of data.
In any case, despite these premises and even though this data is generally considered accurate and reliable, there are factors that can affect the accuracy of the data, such as the use of ad-blockers, compliance with privacy laws, tracking configuration, and data sampling for very large datasets.
These potential problems, however, do not usually impact the "reputation" of this tool, which remains the most suitable and effective reference for monitoring and analyzing website traffic and performance. Ultimately then, as we were already talking about the difference between the values provided by SEO tools and Analytics, there are at least 4 reasons why we should familiarize ourselves with this platform:
Real data vs. estimates. Google Analytics provides real data on website traffic and user behavior, while SEO tools provide estimates based on algorithms and research on a large sample of sites.
Specificity. Google Analytics collects website-specific data, which allows accurate and targeted analysis of performance and trends. In contrast, SEO tools may provide aggregate data and estimates based on broader market data, which may not accurately reflect the site-specific situation.
Depth and granularity. Google Analytics offers a much broader and more detailed range of metrics and dimensions than SEO tools, and so it is possible to analyze data at a more granular level and perform deeper segmentations and analyses.
Purposes. While Google Analytics allows you to set specific goals and track conversions for your site, SEO tools are generally more focused on analyzing keywords, search result rankings, backlinks, and other factors external to the site.
The history and evolution of Google Analytics
This web analytics service now has a long history behind it, and in particular, the platform's debut dates back to late 2005, albeit with a different name: in fact, initially, this system for tracking traffic and analyzing website performance was called Urchin on Demand and was conceived by Urchin Software, a company that Google acquired in April 2005, launching the product on the market after adapting and renaming it to "Google Analytics."
In the years following its launch, Google Analytics quickly became popular with users due to its free access and integration with other Google products; between 2006 and 2008, in particular, there are continuous improvements to functionality and new features such as programmable email reports and support for multilingual sites are introduced. Then, in 2008, Google introduced the Google Analytics API, allowing third-party developers to extract data and create custom applications or integrate Analytics data with other platforms. In the following year, advanced segmentation and customizable reports arrive, further enhancing users' ability to analyze data in depth and understand user behavior on the site.
2012 sees the debut of Google Analytics Universal, which allows users to monitor traffic and behavior across platforms and devices, providing a more comprehensive view of website performance and marketing campaigns.
Let's jump ahead to 2016, when we see the introduction of the Google Analytics 360 product suite, aimed primarily at enterprises and enterprise customers: within this suite we find advanced tools for data analysis, personalization and marketing optimization, such as Google Analytics 360, Google Tag Manager 360, Google Optimize 360, Google Data Studio, Google Attribution 360 and Google Audience Center 360.
Fast forward to recent history: in October 2020, Google unveiled Google Analytics 4 (GA4), a new version of event-driven analytics and a unified data model, capable of providing a better understanding of user behavior across multiple devices and platforms, greater integration with the Google Ads platform, and support for artificial intelligence to improve analytics and predictions related to user behavior. As of July 1, 2023, Universal Analytics is no longer usable and the mandatory switch to Google Analytics 4 is final.
Analytics uptake: numbers and useful facts to know
There are several interesting facts about the use of Google Analytics that highlight the popularity, importance, and key role it plays in the world of digital marketing and web traffic analysis.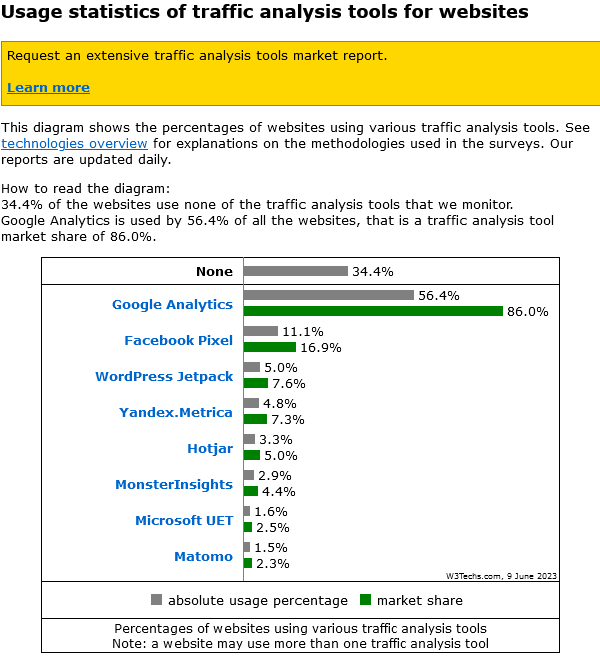 Just to mention a few of these interesting facts, which confirm how this platform is a valuable resource for industry specialists, SMEs and website owners:
Market share. Google Analytics dominates the market for web traffic analysis tools, with an estimated market share between 50 percent and 86 percent depending on the different sources. In particular, W3Techs analysis indicates a penetration close to 86 percent, distant from the first competitor (Facebook's Pixel).
Number of websites using Google Analytics: According to BuiltWith, a service that provides information on web technologies, nearly 40 million websites use Google Analytics to track and analyze performance and traffic.
Adoption over the years. Since the introduction of Google Analytics in 2005, adoption of web traffic analytics has grown rapidly, largely due to users' familiarity with the Google brand and the fact that Google Analytics is a free and easily accessible tool.
Diffusion among popular sites. According to W3Techs, Google Analytics is used by 85.3 percent of the top 10,000 most visited websites, demonstrating how critical being informed about user performance and behavior is to a website's success.
Integration with Google tools. The ease with which Google Analytics can be integrated with other Google products, such as Google Ads, Google Search Console, and Google Tag Manager, has contributed greatly to its spread and popularity among websites and digital marketing specialists.
Popularity among small and medium-sized enterprises (SMEs). Google Analytics is particularly popular among small and medium-sized businesses because of its free offering and wide range of features available at no additional cost. This helps SMEs monitor and analyze their site performance efficiently without having to invest in expensive tools or additional resources.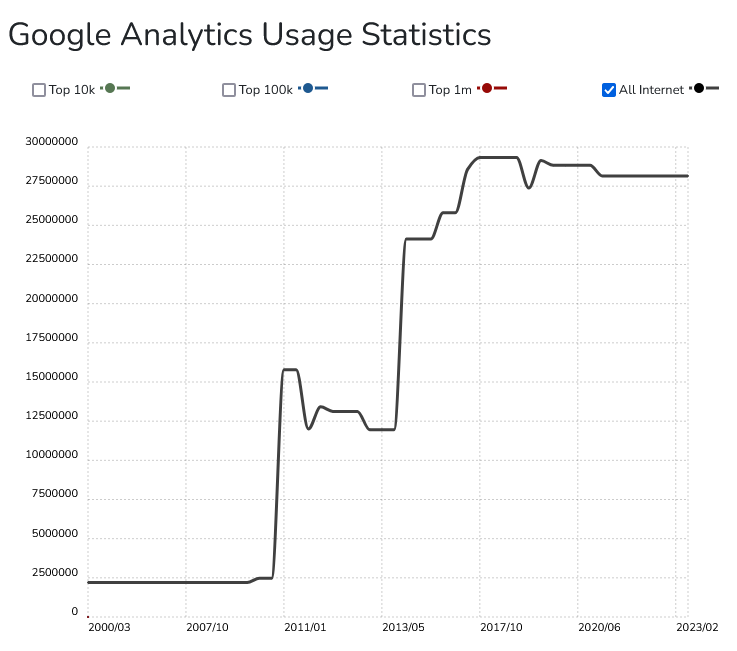 The problems with Analytics: critical issues and controversies over the data collected
Not only sunshine and rainbows, however: this tool also has some limitations, critical issues and controversies, and especially in recent years Google Analytics has often ended up in the crosshairs for issues related to privacy and protection of the data collected.
One of the biggest concerns about Google Analytics is precisely about Google's collection, storage, and use of user information, especially with the coming into force of the GDPR (General Data Protection Regulation) in the EU in 2018. Websites must obtain users' consent before collecting data through tools such as Google Analytics and must ensure that all aspects of data collection, processing, and storage comply with data protection laws. In any case, the collection of data through Google Analytics is lawful and permitted in Europe, provided that certain measures and precautions are taken, including posting a clear and transparent privacy statement and cookie policy on the website explaining how Google Analytics is used and what data is collected. In addition, we are required to seek users' consent before collecting their data through Google Analytics, and consent must be explicit, informed, and based on a positive user action, such as clicking an opt-in button; again, we need to configure Google Analytics to mask users' IP addresses to anonymize them and reduce the risk of personal identification, and it may be appropriate to disable tracking of demographic and interest data, to reduce the amount of personal information collected, and to limit data sharing with Google, specifically disabling data sharing with other third parties.
Other known issues with Analytics, then, include possible data errors: many users use ad-blockers and extensions to block tracking cookies, and this can affect the accuracy of the data collected, leading to an underestimation of visits and website-related metrics. Also on the accuracy and reliability front, then, sometimes the tool can have problems correctly tracking conversions involving multiple domains: configuring cross-domain tracking can be complicated and require implementing custom solutions to ensure data accuracy.
Although it only takes a short time to familiarize oneself with the reports and statistics provided, Google Analytics is a complex tool with a wide range of features and settings, and this can be a hurdle for less experienced users, who may find it difficult to understand and effectively use all the available features and options.
Then there is an underlying problem: The free version of Google Analytics has some limitations, such as a maximum of 10 million "hits" (user interactions, such as page views, events, or e-commerce transactions) per month per property and 200,000 "hits" per hour, and to speed up report generation it uses data sampling, especially for very large datasets. For access to more resources and advanced features, therefore, users must rely on the paid version, Google Analytics 360, which also makes it possible to access unsampled reports for more accurate results.
How to use Google Analytics 4
Despite these limitations and critical issues, Google Analytics remains a popular and indispensable tool for many website owners and digital marketers that can help them make informed decisions about website marketing and optimization strategies.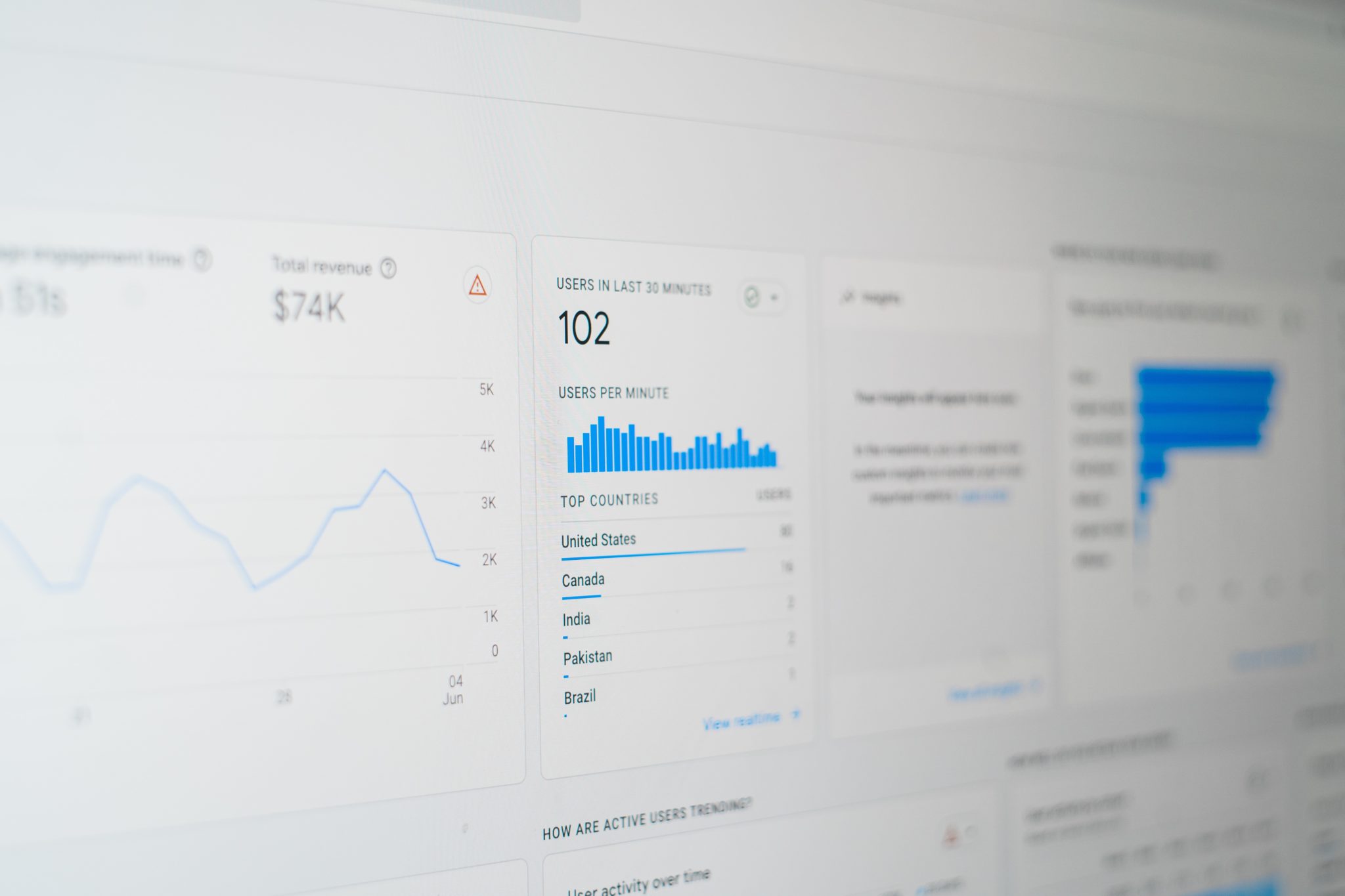 It is therefore important to learn how to use Google Analytics, and in particular to start approaching Google Analytics 4 (GA4), the latest version of this tool, designed to provide a clearer, more detailed and engaging view of user behavior on your website.
Setting up Google Analytics 4 on a site is relatively simple, and the setup process requires only a few steps:
Creating a Google Analytics account. Visit google.com to create a GA profile or create a new one, using an existing Google account or a new one.
Setting up the account and ownership. From the Google Analytics control panel, we look for the "Admin" section and create a new property for the site or app we want to monitor. Accounts can have multiple properties, and each property can have multiple views (filters applied to the data).
Setting up tracking. Once the property is created, we will receive a tracking code (called a "snippet code") that includes a unique tracking ID (e.g., UA-1234567-1) for the website, which will be used to properly configure GA4.
Inserting the tracking code into your website. Now is the time to configure GA4 on your site to enable tracking: the exact configuration process varies depending on your CMS or site management system, but can often be simplified by using a specific plugin. Alternatively, you can manually add the GA4 tracking code in the site header through a simple copy and paste. In general, the code should be placed just before the closing </head> tag.
Tracking verification. The next step is to verify that the entered code is working properly: to perform this, we can visit the website and check the "Real-time Reports" section of Google Analytics to see if it displays access (remembering that it may be necessary to wait a few minutes before the data is displayed).
Data and feature exploration. After tracking is enabled, we can begin to examine the available reports and use the various Google Analytics features to analyze and understand website performance data and user behaviors. GA4 has many advanced configuration options, such as goal creation, user segmentation, and integration with Google Ads or Google Search Console, and we can explore them progressively as we familiarize ourselves with the tool and its features.
Analytics and SEO: the tools and metrics to monitor
Integrating Google Analytics 4 into our SEO strategy will allow us not only to monitor the results of optimization interventions and campaigns, but more generally to quickly and constantly obtain data to work in a more informed way and increase the success of our website.
For those involved in SEO, there are several metrics, data, and insights offered by GA4 that prove extremely valuable: it goes without saying to mention first the value of true organic traffic, which gives us an overview of the actual visits to the site that come from search engines, which can also be compared to total traffic to understand if SEO strategies are working or if a turnaround is needed. To delve even deeper into these aspects, then, we can analyze useful information about keywords and search queries that bring users to the site, so that we have a compass for optimizing content and metadata for specific keyword targets, finding out which keywords are yielding positive results and which might need different attention.
We should also not underestimate the importance of monitoring user demographics and behavioral data, such as age, gender, and interests-this information can help us create content more specific to the target audience and optimize the site to deliver a more engaging and personalized experience.
Understanding user behavior on the site is critical to making their relationship with our brand smooth and is one of the keys to improving the results of a strategy: GA4 allows us to analyze metrics such as session duration, number of page views per session, and bounce rate, through which we can identify areas of the site that need improvement and, no less important, understand how much time users spend on the site and whether they are engaged and interested in the content, or if they quickly abandon pages. In addition, we can also study the user journey, with a detailed view of the paths users take on the site that can serve us to identify any obstacles or trouble spots in the navigation and conversion process.
In practical terms, these insights can guide our corrective actions on design, structure, and content to deliver a favorable and engaging user experience, leveraging, for example, GA4 data to perform A/B testing and thus understand more precisely what our audience's real needs are to ensure effective responses and solutions that can ultimately improve engagement and conversions.
Why use Google Analytics 4
Google Analytics 4 (GA4) thus represents the latest evolution in the field of web traffic analysis and offers a number of features and metrics that are essential for SEO specialists, which is why it is always advisable to set it up on your site and carefully monitor the most valuable metrics and insights to improve strategies and increase website success.
GA4 was developed to offer a better understanding of online user behavior, taking into account recent trends in data privacy and regulation (in particular, Google informs, there are privacy controls such as cookie-free measurement and the definition of behavioral and conversion models), and it uses artificial intelligence to identify and predict trends in the data, providing proactive suggestions to optimize online strategy and refine advertising campaigns. Compared to previous versions, then, GA4 provides more detailed reports on events (rather than session-based), conversions, and user interactions, enabling more in-depth analysis of site performance and marketing campaigns.