Discovery campaigns on Google ADS: what they are and best practices to follow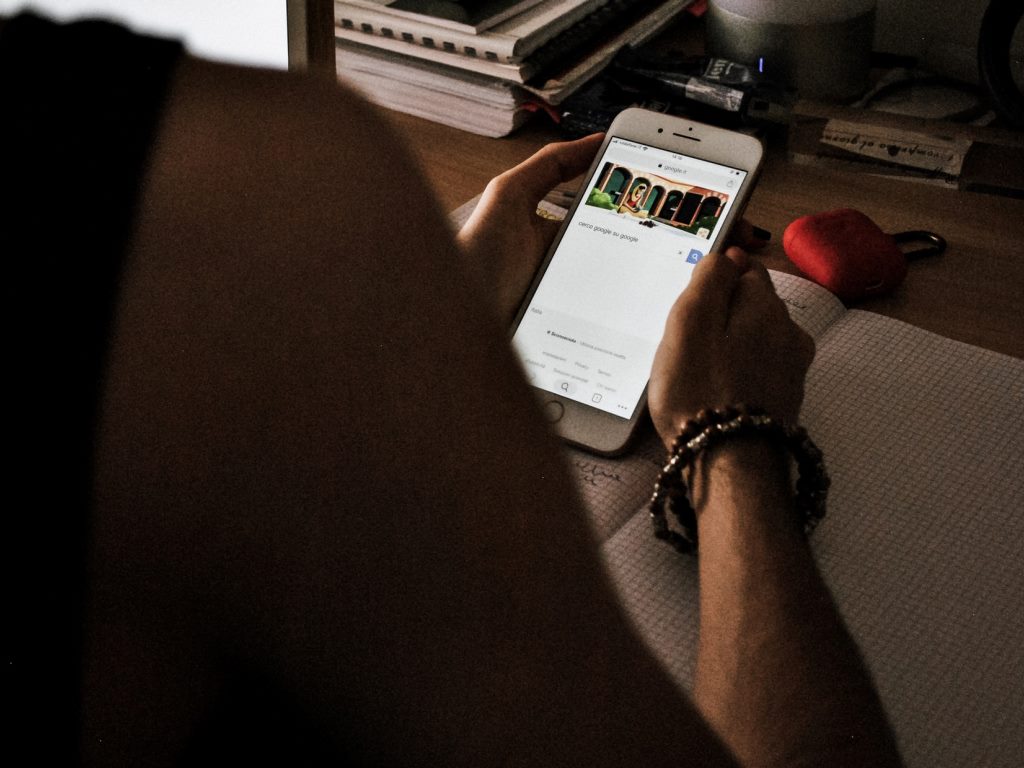 These are intense days at Google's, with one announcement after another and that concern various products and systems of the Mountain View's ecosystem: the latest news concerns the global extension of the Google ADS program for discovery ads, that allow you to enter the personalized feeds of users and become an important channel for the advertising collection of the company.
The Google Discovery ADS program
Last year, Google introduced Discovery ads as "a new way to help people discover and interact with your brand as they browse their favorite contents", writes Jerry Dischler (Vice President, Ads Platforms & Google Properties) on the company's official blog. In April, for the first time, Discovery ADS became available to all advertisers globally.
How Discovery ADS work
This means that you can "reach up to 2.9 billion people as they explore their interests and seek inspiration on multiple Google surfaces, all with one easy-to-use campaign". It is an audience similar to the one reachable through Facebook, which is the direct competitor of this program.
The Google help page points out that "discovery ads allow you to reach people through custom feeds on the most popular Google properties", such as Youtube, Gmail and especially Google Discover, one of the products the company's focus has been on in recent months.
The secret is an effective and creative layout, which takes advantage of the incredible coverage of Google tools "that allow you to understand the intentions of the user in order to identify in advance the needs of the customer and generate results".
The benefits of discovery ads on Google
It is still Dischler to highlight the potential of this system, which helps to reach users when they are willing to discover new products and services: "86% of online consumers claim to be looking for shopping ideas while watching videos or exploring content on the Web," he says, and thus "more and more users find their next favorite brand or product through a growing variety of contact points".
With Discovery ads "you can rely on Google's understanding of consumers in all of our properties, so to engage these audience segments as they browse their favorite Google feeds, without the need to launch search queries".
The Google products concerned
There are three Google surfaces in particular that show this type of ads:
Youtube, where you can "show your products on the home page and watch next" at the end of playing a video.

According to the Googler, over 90 percent of users claim to discover new brands or products on Youtube.

Discover, which allows you to "reach hundreds of millions of consumers in the feed on the Google Search app as they explore and stay up to date on their interests".
Gmail, to show "timely offers to buyers while they check their mailbox for the latest products and offers in the Promotions and Social tabs".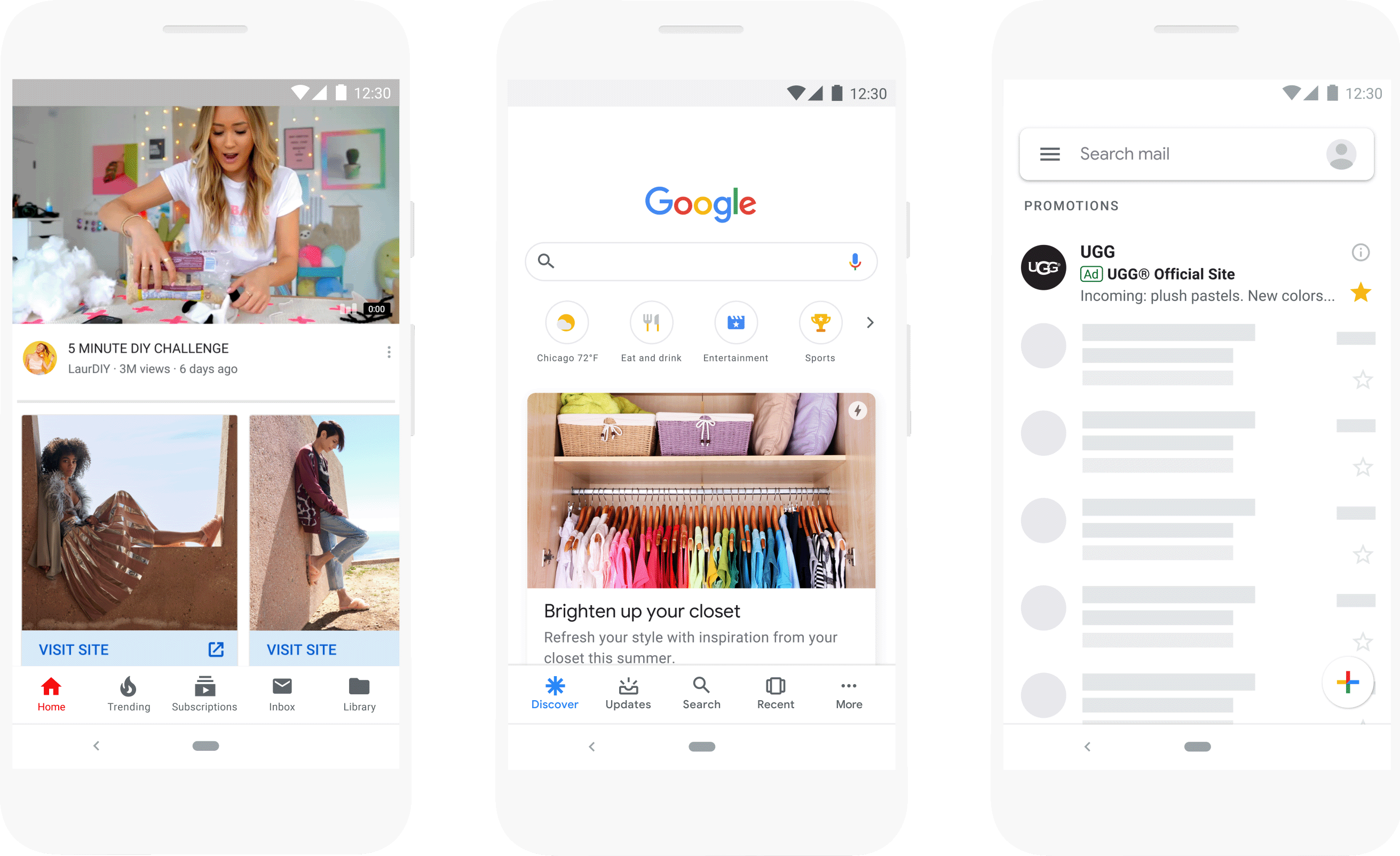 The successful cases of early adopter
The article from Google's blog also reports some success cases of early adopters of ADS, and in particular the stories of Deckers, iProspect and Mandm Direct, which "have seen great results driving customer action with discovery ads along with their existing media".
For the collection of "Deckers' iconic lifestyle brands, inspiring consumers to action through visually rich product experiences is critical to media planning". Usually, Deckers relied on social media and videos to engage new customers, but "collaborated with the Jellyfish digital agency to expand its strategy for the 2019 UGG brand Christmas holidays".
Specifically, "UGG used discovery Ads to promote its guide to holiday gifts, connecting with fashion buyers open to try out new products as they scrolled through their favorite Google feeds," proposing high-quality images from social campaigns, "with popular products such as his Classic Short Boot and the Neumel Chukka for men". The result has been "a strong increase of the quality of the traffic of its Web site and a return of the revenues ten times higher to the original advertising expense", so much that now "Deckers plans to implement Discovery ads across the rest of its portfolio of brands, including HOKA and Teva".
This is confirmed by Richard Russell, omnichannel marketing vice president at Deckers, who says he is very satisfied "of our performance in the Discovery ads, which helped us to develop our omnichannel strategy, driving more intensely the action with our ideal customer through their purchase path".
The iProspect digital marketing agency has also taken advantage of this type of ad, successfully offering Discovery ads to several major brands seeking to connect with new customers, including global retailers. "Since we started testing in early 2019, Discovery ads have delivered results across a wide range of vertical industries, from retail to education", says Gareth Cleevely, VP Head of Paid Search at iProspect, and above all they offered "positive performance in the funnel, with a cost per action up to 48% lower than social ads".
Also positive is the comment of Phil Twigg, head of acquisition of Mandm Direct, who says that the company has been able to "quickly expand our social media campaigns with discovery ads, unlocking new audiences and achieving excellent performance".
The best practices for discovery ADS
Google guides also recommend some best practices to improve the performance of discovery campaigns, which are summarized in four actions:
Use high-quality and eye-catching images and creativity

Reach the right customers

Setting a correct budget

Measure the performance
The role of images and creativity
Google's first suggestion for discovery ads is to create "visually appealing and high-quality creativity", starting with the use of high-quality images (recommended sizes 1200 x 628 and 1200 x 1200) such as evocative photos with effective text and lighting, which entice people to interact with our brand.
As we know, high-quality images are key to "telling a more engaging story about the products or services you offer", and in this sense may increase "the chances of customers being pushed to take action".
Discovery ads allow you to use single or grouped images in carousels: in the first case, it is suggested to add at least 5 square and 5 horizontal assets in the same ad. For carousel ads, however, it is better to add at least 5 images, which will be shown in the order in which we upload them: we can then try to tell a story through the images instead of simply showing a mix of products, using both square and horizontal images because discovery campaigns automatically select the image option and the size that generate the best performance on each property.
Discovery Ads, suggestions for creativity
From a practical point of view, we must then highlight the product information and offers (such as promotions or discounts) in titles and descriptions, so as to capture the interest of customers immediately and help them complete purchases. Moreover, Google suggests that lettering should also be taken care of, using capital initials in titles and descriptions only for the first word or proper names, as required by spelling rules, to offer a more authentic and credible advertising experience.
No less important is to check that the campaign is set in the same language of the creativity, and we can also reuse image assets and messages with the best performance present in existing campaigns on other platforms (such as email, video or social).
Reaching our target
Google invites you to focus on "the audience segments that are more likely to convert for your business based on the performance observed in your display, video and search network campaigns".
To make a discovery ad campaign more effective, then, we can start reaching audiences segments that have "already a good performance on networks, such as existing customers, people who have already visited your website and potential users similar to your customer base".
On the Google Search system, for example, "advertisers who add personalization by intention, Customer Match, remarketing or audience segments similar to their discovery ads have observed an 81% increase in conversion rates and a 25% reduction in CPA".
Setting a proper budget
Discovery campaigns have a better performance with more data, they explain from Google, so it is recommended to choose "an average daily budget at least ten times higher than the value of the offer based on cost per target action (CPA)" and wait "at least 40 conversions occur before making changes to the campaign".
Furthemore, after making changes to the campaign it would be necessary to wait "2-3 weeks before adding more", because "changing supply strategies or adding new creativity assets can lead to short-term fluctuations in performance" and it takes time for the system to gather the data needed to optimize performance.
Measuring the campaign's performance
The last aspect of these best practices is the monitoring and measurement of the performance of discovery ads campaigns, to be ensured through three actions: activation of the coding at the site level in the account, configuration of conversion monitoring and compliance with conversion-based eligibility requirements.
In this way, we can "understand what actions users take on your website after interacting with your ad", to find out "who are your best customers" and then adapt the ad and creativity offers to reach even more right users and "to understand which are the assets of the most effective creativities", so as to optimize ads and set other marketing campaigns based on the data available.